The Martyrdom of the Ulma Family
This biography tells the story of the heroic virtue and sacrifice that led to the beatification of an entire family.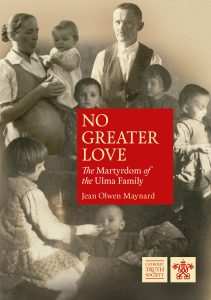 No Greater Love – The Martyrdom of the Ulma Family
Józef and Wiktoria Ulma and their seven children have been beatified together in a ceremony in Poland!
An entire Polish family has been beatified at once, including a child barely born. The story that led to the beatification of this devout couple and their seven children is a tragic but remarkable one.
Under the Nazi occupation of Poland during World War II, Jews were indiscriminately arrested, imprisoned, and killed. Christians who helped them hide or escape placed themselves in the same peril.
In the village of Markowa, Poland, Josef Ulma, a deeply devout peasant farmer with a talent for photography, and his pregnant wife Wiktoria, were moved by the plight of their Jewish neighbours. Guided by the parable of the Good Samaritan, which was underlined in red ink in the family Bible, they agreed to shelter several Jewish families. As a result, in 1944, the Nazis came for Josef, Wiktoria, and their seven small children – one not yet born at the time of the attack. Not a soul was spared.
The whole family was beatified in their home village of Markowa in September 2023. Their incredible story of heroic virtue is told in No Greater Love: The Martyrdom of the Ulma Family.
Format: A6 Paperback