I am not moved to love you, O my God,
That I might hope in promised heaven to dwell;
Nor am I moved by fear of pain in hell
To turn from sin and follow where you trod.
You move me, Lord, broken beneath the rod,
Or stretched out on the cross, as nails compel
Your hand to twitch. It moves me that we sell,
To mockery and death, your precious blood.
It is, O Christ, your love which moves me so,
That my love rests not on a promised prize;
Nor holy fear on threat of endless woe;
It is not milk and honey, but the flow
Of blood from blessed wounds before my eyes,
That waters my buried soul and makes it grow.
---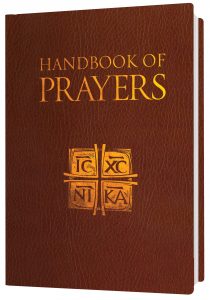 This prayer is extracted from our book Handbook of Prayers. Beautifully illustrated, divided into 20 sections, featuring hundreds of prayers, the Handbook sets out practical ways to grow in your faith, alongside the basic tenets of the Catholic faith.
Dive into this treasury of prayers and support the mission of CTS by ordering your copy of Handbook of Prayers today.