Remember that the sacrament is above all an act of God's love. It is a personal moment to be lived in a relationship of love with God. It is not routine, nor an ordeal to be gone through, but is very much part of the personal renewal which takes place in each person. You are invited, in the light of God's love, to recognise the sinfulness of your life, to have true sorrow for your sins, and a firm intention to avoid them in future.
Essential elements of a good confession
To make a good confession, we should:
1. Pray first, asking God to help us.
2. Make a sincere examination of conscience to see how we have sinned since our last confession.
3. Confess our sins simply, with humility and honesty.
4. Make our act of contrition with heartfelt sorrow and a "firm purpose of amendment", being determined that we will avoid the occasions of sin.
5. Devoutly carry out the penance prescribed and pray in thanksgiving for God's overflowing love and mercy.
Prayer before Confession
Almighty and merciful God, you have brought me here in the name of your Son to receive your mercy and grace in my time of need. Open my eyes to see the evil I have done. Touch my heart and convert me to yourself. Where sin has separated me from you, may your love unite me to you again: where sin has brought weakness, may your power heal and strengthen; where sin has brought death, may your Spirit raise to new life. Give me a new heart to love you, so that my life may reflect the image of your Son. May the world see the glory of Christ revealed in your Church, and come to know that he is the one whom you have sent, Jesus Christ, your Son, our Lord. Amen.
The Confiteor
I confess to almighty God and to you, my brothers and sisters, that I have greatly sinned, in my thoughts and in my words, in what I have done and in what I have failed to do, through my fault, through my fault, through my most grievous fault; therefore I ask blessed Mary ever-Virgin, all the Angels and Saints, and you, my brothers and sisters, to pray for me to the Lord our God.
An Act of Contrition
O my God, I am sorry and beg pardon for all my sins, and detest them above all things, because they deserve your dreadful punishments, because they have crucified my loving Saviour Jesus Christ, and, most of all, because they offend your infinite goodness; and I firmly resolve, by the help of your grace, never to offend you again, and carefully to avoid the occasions of sin.
Examination of Conscience
Click here for an Examination of Conscience you can use.
Going to Confession
Reception
The priest welcomes the penitent warmly. The penitent and priest begin by making the sign of the cross, while saying: ✠ In the name of the Father, and of the Son, and of the Holy Spirit. Amen. The priest invites you to trust in God. You may indicate your state of life, and anything else which may help the priest as confessor.
The Word of God
The priest may invite you to reflect on a passage from Holy Scripture, speaking of God's mercy and call to conversion.
Reconciliation
Then you can speak in your own words or you can say: "Bless me Father for I have sinned. My last confession was … ago (say roughly how long) and these are my sins."
Now tell your sins simply in your own words.
When you have finished, let the priest know. You can use these words if you wish: "I am sorry for all these sins and for any that I cannot now remember."
Listen carefully to the advice of the priest and ask the Holy Spirit to help him to say what is best to help you to grow in the Christian life. You can ask him questions if you want.
The priest may propose an Act of Penance, which should serve not only to make up for the past but also to help begin a new life and provide an antidote to weakness. It may take the form of prayer, self-denial, and especially of service to one's neighbour and works of mercy.
Then the priest invites you to say a prayer of sorrow (an Act of Contrition), such as:
O my God, because you are so good, I am very sorry that I have sinned against you, and by the help of your grace, I will not sin again.
Wait while the priest says the prayer of "Absolution" (where Christ forgives you all your sins). Make the sign of the cross as the priest says: I absolve you from your sins in the name of the Father ✠ and of the Son and of the Holy Spirit. Amen. The priest may say a few final words of encouragement to you as you leave.
After Confession
Take some time in the quiet of the Church to reflect on the grace of the sacrament and to thank God for his mercy and forgiveness. Here is a prayer of thanksgiving:
Father, in your love you have brought me from evil to good and from misery to happiness. Through your blessings give me the courage of perseverance. Amen.
Find out why you need to go to confession in this blog.
---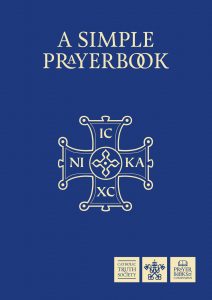 This blog is extracted from A Simple Prayer Book, the CTS bestselling prayer book with 3 main sections: Prayer and Devotions, The Eucharist, and Catholic Teaching. Also includes the Order of Mass, Way of the Cross, basic prayers, the Rosary and other prayers.
Order your copy of A Simple Prayer Book and support the mission of CTS.