How do I enter a Promo Code?
Your step by step guide to applying a Promo Code.
Do you have a Promo Code (or coupon) that you'd like to use? Not sure how to use it? Here's a step by step guide for using it.
---
The Quick Explanation
Once you've added the promotional items to your basket, go to the Basket page and you'll see a box labelled Promo Code. Enter the code you've been given, and press Apply Code. Then that's it! Done!
---
The Longer Explanation
You might find it helpful to have this page open while you're trying to apply the code, so you can use it for reference. Click here to open your Basket in a new tab so you can see both pages at once.
Once you're ready to pay, head to the Basket page. See the example pictured below or click here to get your Basket.

3. Once you're on the basket page, you'll see a list of products that are in your basket. Scroll down with your mouse and find the heading Basket Totals. There you'll find a box labelled "Promo Code" (see below). Type in or copy and paste the promo code exactly as you see it. (If any additional letters or numbers are added, the Promo Code won't work. However, the promo code is not case sensitive. You might find it helpful to copy and paste the Promo Code.) Then click the button labelled Apply Code. See the example pictured below.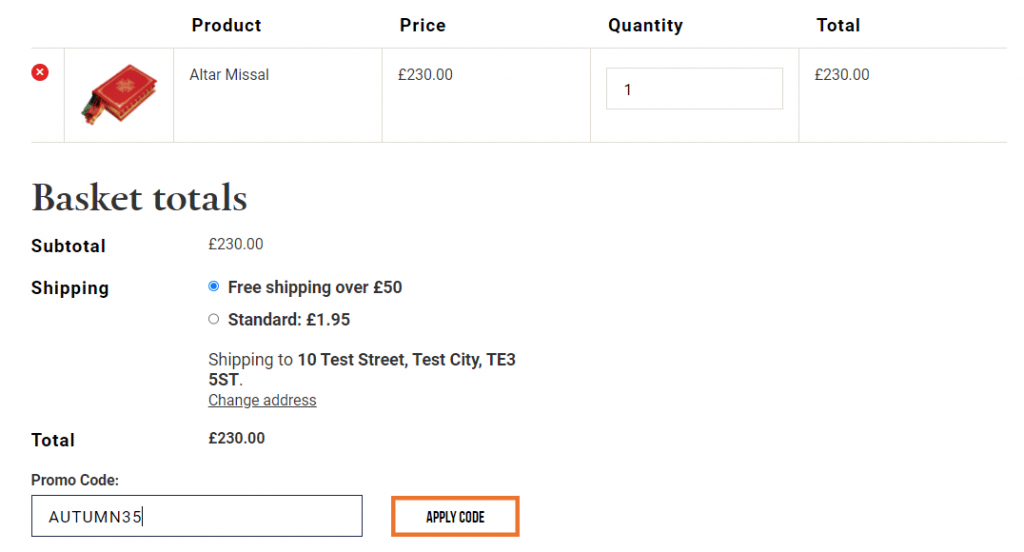 4. Once your promo code has been entered, check that the discount has been applied. You can do this by checking for the message above the list of your products, and by looking for the adjustment to your basket totals. See the example pictured below.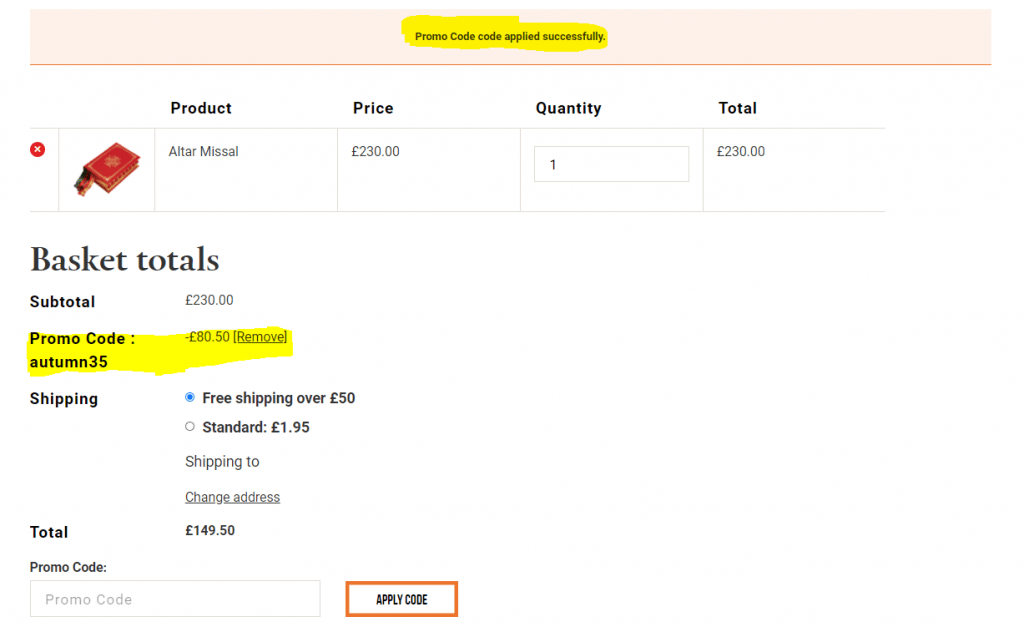 If the Promo Code hasn't worked, you'll see a message above the list of products in your basket to let you know. See the example pictured below.

---
Reasons why a Promo Code might not work
Here are the error messages you might see if the promo code hasn't been used correctly:
Promo code does not exist!
The most likely explanation for this is that you put in an additional number or letter, or added a space. You must enter the code exactly as you see it. You may find it helpful to copy the promo code (for example from the email where you received it) and then paste it into the promo code box.
Sorry, this Promo Code is not applicable to selected products.
This means you've tried to use a promo code on an item that's not in the offer. If you're not sure what's in the offer, go back to where you found the promo code, such as an email or catalogue, and check which items it applies to.
This Promo Code has expired.
All our promo codes have expiration dates. Unfortunately, if it's expired this means the offer has ended.
---
And that's it! Now you can carry on to the checkout as usual. If you have any further difficulties or if you think there's an error with a promo code, please get in touch – we're here to help! Call us on 020 7640 0042 or contact us via the website or alternatively send a message via Facebook, Instagram, or Twitter.