The Advent wreath is made of four candles and a circle of branches. Before the first candle is lit, the household gathers for this blessing.
All make the sign of the cross as the minister says:
Our help is in the name of the Lord.
All reply:
Who made heaven and earth.
One of those present or the minister reads a text of sacred Scripture, for instance:
Brothers and sisters, listen to the words of the prophet Isaiah:
9: 1– 2, 5-6
The people that walked in darkness has seen a great light.
The people that walked in darkness
has seen a great light;
on those who live in a land of deep shadow
a light has shone.
You have made their gladness greater,
you have made their joy increase;
they rejoice in your presence
as men rejoice at harvest time,
as men are happy when they are dividing the spoils.
For there is a child born for us,
a son given to us
and dominion is laid upon his shoulders;
and this is the name they give him:
Wonder-Counsellor, Mighty-God,
Eternal-Father, Prince-of-Peace.
Wide is his dominion
in a peace that has no end,
for the throne of David
and his royal power,
which he establishes and makes secure
in justice and integrity.
From this time onwards and for ever,
the jealous love of the Lord Sabaoth will do this.
A minister who is a priest or deacon says the prayer of blessing with hands outstretched; a lay minister says the prayer with hands joined.
Lord God,
your Church joyfully awaits the coming of its Saviour,
who enlightens our hearts
and dispels the darkness of ignorance and sin.
Pour forth your blessings upon us
as we light the candles of this wreath;
may their light reflect the splendour of Christ,
who is Lord, for ever and ever.
R. Amen.
or:
Lord our God,
we praise you for your Son, Jesus Christ:
he is Emmanuel, the hope of the peoples,
he is the wisdom that teaches and guides us,
he is the Saviour of every nation.
Lord God,
let your blessing come upon us
as we light the candles of this wreath.
May the wreath and its light
be a sign of Christ's promise to bring us salvation;
may he come quickly and not delay.
We ask this through Christ our Lord.
R. Amen.
---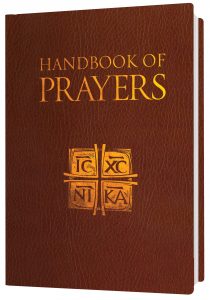 This blessing is extracted from A Handbook of Prayers. Beautifully illustrated, divided into 20 sections, featuring hundreds of prayers, the Handbook sets out practical ways to grow in your faith, alongside the basic tenets of the Catholic faith.
For more prayers and blessings, and to support the mission of CTS, order your copy of A Handbook of Prayers today.