St Margaret Mary Alacoque was a religious of the Visitation Order who had been attracted to this order because of her delicate health. Christ appeared to her on a number of occasions with revelations about the love of his Sacred Heart for mankind. Like St Gertrude, she was given the privilege of resting her head upon Christ's Heart, and being told how much he loved mankind and sought a return for this love. This particular revelation occurred on 27th December, the feast of St John the Evangelist, probably in 1673, while Margaret Mary was a nun in the Visitation convent at Paray-le-Monial, a small town in the Burgundy region of eastern France.
She related what happened to Fr Claude de la Colombière, who was in charge of the Jesuit house in the town, describing how she had a vision of Jesus, during which she was given some idea of the greatness of his love for mankind. She also related how Christ told her that he wanted her to announce this love. A similar theme was expressed during the second apparition, early in 1674, when Margaret Mary saw Jesus' Sacred Heart on a throne of flames, transparent as crystal, surrounded by a crown of thorns signifying the sins of mankind, with a cross above it. Again Jesus told her of his infinite love for mankind and his desire that he should be honoured through the display of this image of his heart, with the promise that all who did so would be especially blessed. This vision is the origin of the traditional Sacred Heart picture which became so well known in later centuries, as indicated in one of the promises made by Christ to her: "I will bless every place where a picture of my Sacred Heart shall be exposed and honoured."
The third apparition probably took place on 2nd July 1674, while Margaret Mary was praying before the Blessed Sacrament. She saw a vision of Jesus in glory, with his five wounds shining like suns. He then showed her his heart on fire with love for mankind, a love that was often ignored or treated with contempt. He asked her to make up for this coldness and ingratitude by receiving Holy Communion as often as she was allowed, and particularly on the first Friday of each month. 
The fourth apparition, which probably took place on 16th June 1675, was the most important. As before, it happened as Margaret Mary was praying before the Blessed Sacrament. Jesus again showed her a representation of his heart, further complaining of the ingratitude and coldness of mankind towards him, and particularly those specially consecrated to him. To make up for this he asked that the first Friday after the feast of Corpus Christi should be dedicated as a feast in honour of his Sacred Heart, and become an occasion for the faithful to receive Holy Communion in reparation. 
---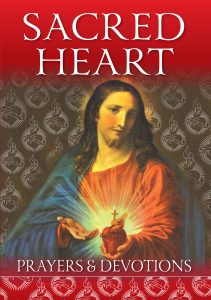 This blog is extracted from our book Sacred Heart: Prayers and Devotions. Explaining the effects of devotion to the Sacred Heart over the centuries, the booklet is a practical and simple way for people to foster a devotional spirit and can be used individually or in parish groups.
For more on the devotion to the Sacred Heart, including prayers, order your copy of Sacred Heart: Prayers and Devotions today.