Who was St George?
We all know St George as patron of England and tamer of dragons. The facts of his life are obscure, but he seems to have been a Roman soldier, probably of the late third century, who was martyred at Lydda in Palestine during the great persecution by the Emperor Diocletian, probably for refusing to renounce Christ and worship the Emperor as a god. His cult was very widespread in the east from that time on; when English soldiers went to the Holy Land on Crusade, they were inspired by this warrior saint; Richard the Lionheart put himself and his army under St George's protection. From then on his popularity in England only grew: Edward III founded the Order of the Garter, with St George as patron, in 1348; Henry V called on St George for aid before the great victory of Agincourt in 1415. Thereafter he was secure as patron of England (although the patronage of two Anglo-Saxon Saint-Kings, Edward the Confessor and Edmund of East Anglia, was not neglected), and his popularity survived the spoliation and wreckage of the Reformation.
Prayer to St George
This prayer to St George can be said for nine days as a novena.
Faithful servant of God and invincible martyr, St George, inflamed with a burning love of Christ, you fought against the dragon of pride, falsehood and deceit. Neither pain nor torture, nor the sword nor death could part you from the love of Christ. I implore you for the sake of this love to help me by your intercession to overcome the temptations that surround me, and to bear bravely the trials that oppress me, so that I may patiently carry my cross and let neither distress nor difficulty separate me from the love of our Lord, Jesus Christ. Amen
---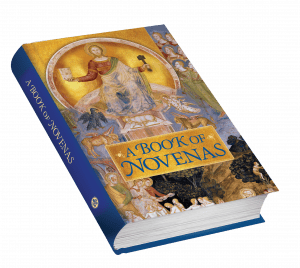 This prayer is extracted from our book A Book of Novenas. Containing a rich selection for many different needs, this beautiful collection of novenas encourages intercession of the saints and making prayer in the tradition of the great figures of Scripture.
Pray more novenas to the saints and for feasts and seasons by ordering your copy of A Book of Novenas today.