This traditional Catholic prayer features aspirations that we can pray to God for in order to strengthen our faith. The prayer is thought to date back to the early fourteenth century.
Soul of Christ, sanctify me.
Body of Christ, save me.
Blood of Christ, inebriate me.
Water from the side of Christ, wash me.
Passion of Christ, strengthen me.
O good Jesu, hear me.
Within thy wounds hide me.
Suffer me not to be separated from thee.
From the malicious enemy, defend me.
In the hour of my death, call me,
and bid me come to thee.
That with your saints I may praise thee,
for all eternity.
Amen.
---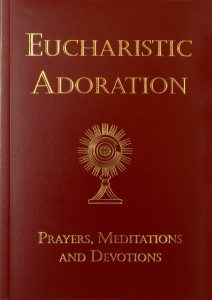 This prayer is extracted from our book Eucharistic Adoration. The perfect companion for Eucharistic Adoration, featuring the rite of Exposition and Benediction, as well as scripture readings, prayers, litanies, hymns, and devotional images.
Order your copy of Eucharistic Adoration to discover more prayers and meditations before the Blessed Sacrament, and to support the mission of CTS.