OUR FATHER WHO ART IN HEAVEN
Only after acknowledging our true relationship with God as needy sinners seeking his holiness can we can journey on to grow in that holiness and in our love for him.
HALLOWED BE THY NAME
As Christians, we share in the name of the Christ – and in his holiness. And when we recognise and proclaim God's holiness, we promise to make his name and reputation holy here on earth.
THY KINGDOM COME
We are pilgrims on earth but also citizens of heaven, which means that there will always be some tension in our lives… This can be felt and experienced during Lent, when we seek to free ourselves, by God's grace, from the evil of this world while being witnesses to the Gospel in the world.
THY WILL BE DONE ON EARTH AS IT IS IN HEAVEN
To the world, the cross is an embarrassment and a scandal. To Christians, it is love in action. The world sees a dying, bloody man; we see the Son of God with open arms, reaching out to embrace the entire world in love – "on earth as it is in heaven."
GIVE US THIS DAY OUR DAILY BREAD
One of the great paradoxes of the Christian faith is that God's grace is a free gift, but accepting it costs us everything. This important truth is at the heart of Lent, a time of counting the cost and glorifying God through our actions.
FORGIVE US OUR TRESPASSES, AS WE FORGIVE THOSE WHO TRESPASS AGAINST US
The ultimate goal of forgiveness is communion with God and with one another. The Eucharist provides the grace needed to forgive others and to embrace them as brothers and sisters.
LEAD US NOT INTO TEMPTATION
During Lent, the struggle against temptation and sin is brought into sharp focus. By simplifying our lives and removing distractions, hidden weaknesses are brought to light and sinful habits are recognised for what they are.
DELIVER US FROM EVIL
Belief in the existence of Satan is often mocked in our supposedly enlightened age, even while the reality of evil can be seen all around the world in events monumental and minor… The battle for souls rages around us, but the Risen Lord does not ask the Father to take us, his disciples, out of the world, but to keep us "from the evil one" (Jn 17:15).
---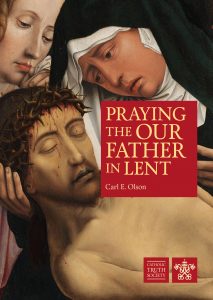 These quotes are extracted from Praying the Our Father in Lent. When the disciples asked Jesus how to pray, he taught them the Our Father. These meditations illuminate the words of the Lord's Prayer as an essential part of the spiritual journey from Lent to Easter.
Order Praying the Our Father in Lent here.