Remember, O Lord, the words which you spoke on the cross: "Father, into your hands I commend my spirit." I pray you receive my soul, when it must leave my sinful body, into the loving wound of your Heart. O dear Lord Jesus Christ, remember how on the cross your blessed Heart broke in the bitterness of death. When in my last hour my heart shall break in death, give me, I beseech you, this grace, that you may find in my soul perfect love, true contrition, firm faith, and unshakable trust in your mercy. Amen.
(Marienvrede, Convent of the Cross)
---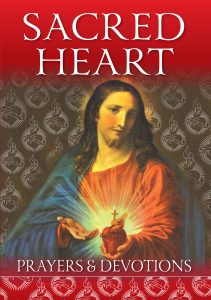 This prayer is extracted from our book Sacred Heart: Prayers and Devotions. The booklet will help deepen love for Christ bringing him closer to the everyday needs, concerns and joys of all. Explaining the effects of devotion to the Sacred Heart over the centuries, the booklet is a practical and simple way for people to foster a devotional spirit and can be used individually or in parish groups.
For more on the Sacred Heart devotion, and to support the mission of CTS, order your copy of Sacred Heart: Prayers and Devotions.