O most sacred, most loving Heart of Jesus, Thou art concealed in the Holy Eucharist, and Thou beatest for us still. Now as then Thou sayest, "With desire I have desired." I worship Thee, then, with all my best love and awe, with my fervent affection, with my most subdued, most resolved will. O make my heart beat with Thy heart. Purify it of all that is earthly, all that is proud and sensual, all that is hard and cruel, of all perversity, of all disorder, of all deadness. So fill it with Thee, that neither the events of the day nor the circumstances of the time may have power to ruffle it; but that in Thy love and Thy fear it may have peace.
---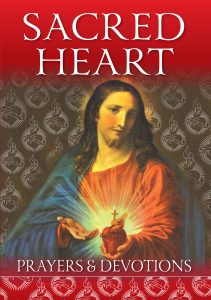 This prayer is extracted from our book Sacred Heart: Prayers and Devotions. The booklet will help deepen love for Christ bringing him closer to the everyday needs, concerns and joys of all. Explaining the effects of devotion to the Sacred Heart over the centuries, the booklet is a practical and simple way for people to foster a devotional spirit and can be used individually or in parish groups.
For more on the Sacred Heart devotion, and to support the mission of CTS, order your copy of Sacred Heart: Prayers and Devotions.