Shortly after the last apparition of Jesus to St Margaret Mary Alacoque, she spoke to Fr de la Colombière, and as a result he was moved to consecrate himself to the Sacred Heart. He asked her to write an account of what had happened, and he then did what he could to make all this known both in France and in England, where he lived for three years
After the death of Margaret Mary, in 1690, the devotion spread slowly but steadily, particularly in southern France; and in 1765 the Holy See allowed a feast of the Sacred Heart to be celebrated in the country as a whole. At the urging of the French bishops, in 1856, it was extended to the whole Church by Pope Pius IX, and it became a first class feast in 1889.
At the same time, acts of consecration and reparation to the Sacred Heart became increasingly popular throughout the Church, culminating in Pope Leo XIII's consecration of the world to the Sacred Heart in 1899. During the last third of the nineteenth century, various petitions advocating this had been addressed to the Holy See, but only after close study of the question did the Pope decide to carry out this act. That it was not a mere pious formality is shown by the fact that Pope Leo saw this as the "great act" of his pontificate. In the accompanying encyclical, Annum Sacrum, he justified his action on the basis that Christ, as son of God and Redeemer of humanity, had both natural and acquired rights over mankind. Therefore the consecration made sense as a further dedication of the human race to Christ, with his Sacred Heart as a tangible sign of his infinite love.
---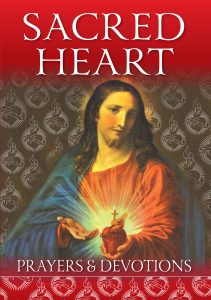 This blog is extracted from our book Sacred Heart: Prayers and Devotions. Explaining the effects of devotion to the Sacred Heart over the centuries, the booklet is a practical and simple way for people to foster a devotional spirit and can be used individually or in parish groups.
For more on the devotion to the Sacred Heart, including prayers, order your copy of Sacred Heart: Prayers and Devotions today.